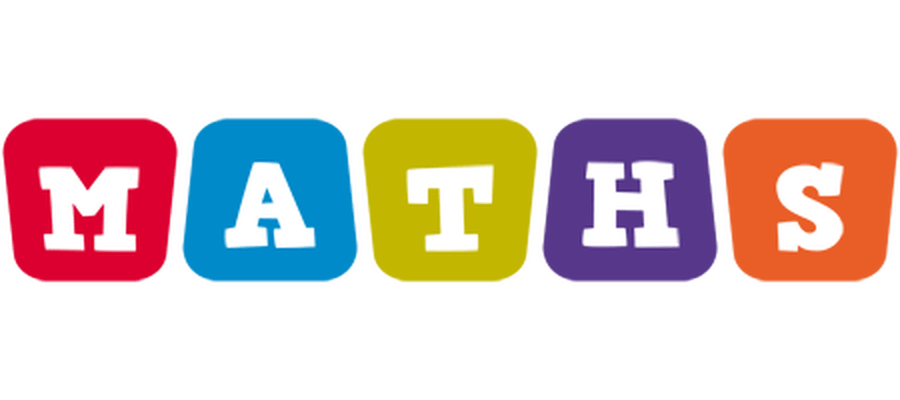 5th September - 14th September
We have been learning all about the number 1. We have looked at telling the time at 1'o'clock, finding 1 pence to pay for snack, having races and picking who was 1st and many more exciting things.
The children have really enjoyed singing along to this weeks number song too.
17th September - 21st September
We have been learning all about the number 2.
24th September - 29th September
We have been learning all about the number 3.
1st October - 5th October
We have been learning all about the number 4. We have been on a shape hunt - looking for everyday objects that have 4 sides. We have also been exploring halving and quartering. We loved this, especially as we got to quarter a pizza and eat it.
8th October - 12th October
We have been learning all about the number 5. We worked on ordering numbers 1-5 and matching the correct quantity. We also looked at ordering objects based on size. We even explored using a ruler to find out which item was 5cm long.
15th October - 19th October
We have been learning all about the number 6. We have been exploring 3d shapes that have 6 faces and have been using mathematical language to describe them. We have also been working in the outdoor area to write numbers 1-6 and then using this number line to jump back and forth to find one more and one less.
29th October -9th November
We have been learning all about the number 7. We have been working on simple additions to 7 and have also be looking at capacity. The children liked working out the Hansel and Gretel additions, especially as they got to eat the sweets after the had worked out the answer.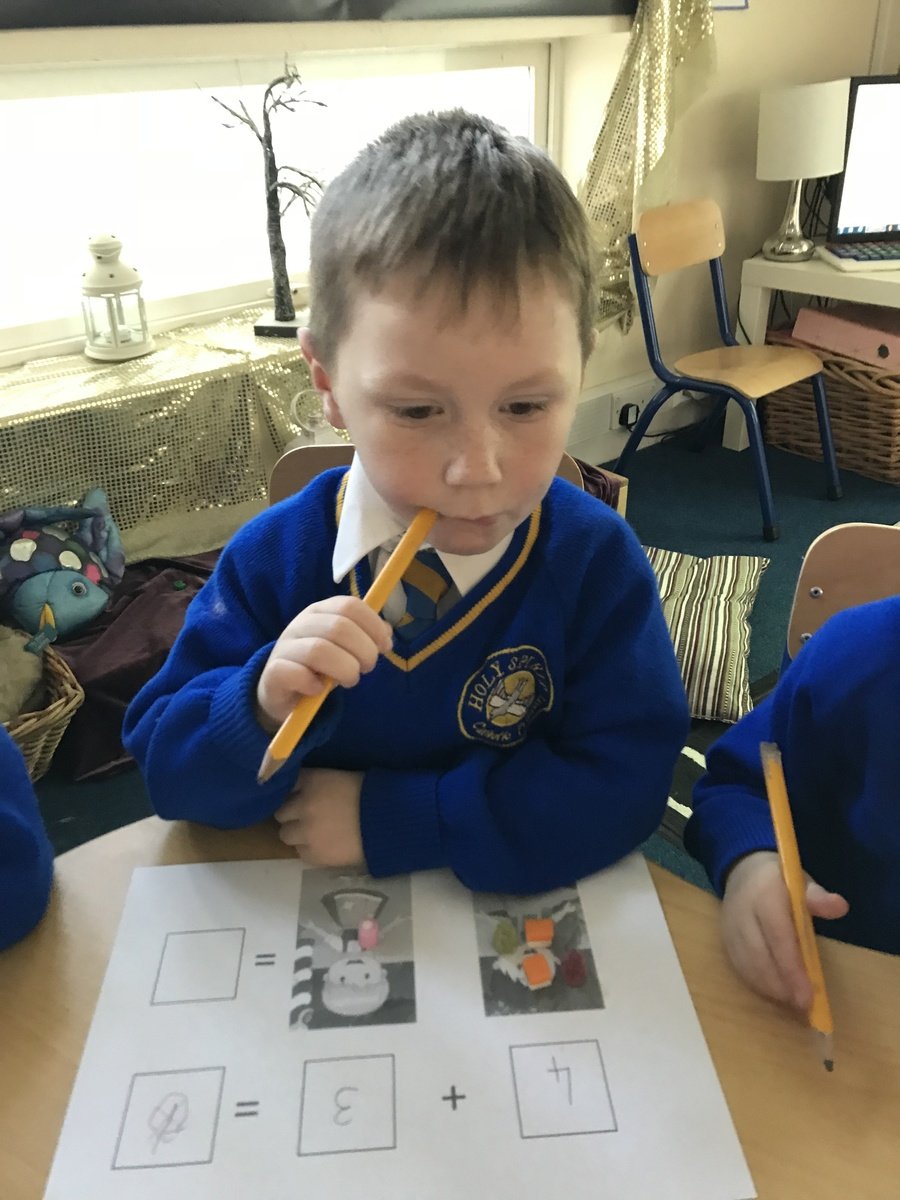 12th November -23rd November
We explored number bonds to 10. We used numicon pieces and 10's frames to help us explore the different ways of making 10.
26th November - 7th December
We explored how to make 10p using various coins. We started by matching the value of each coin to the correct numicon piece and made 10 in a similar way to how we did last week. We also explored ordinal numbers and had races with 10 toy cars. We had to award each card with the correct ordinal number
10th December -20th December
We explored estimation. We started off by estimating small amounts and then enlarged the group of objects the more confident that we got. We had a go at estimating objects that we could move and then estimated objects we could see in pictures.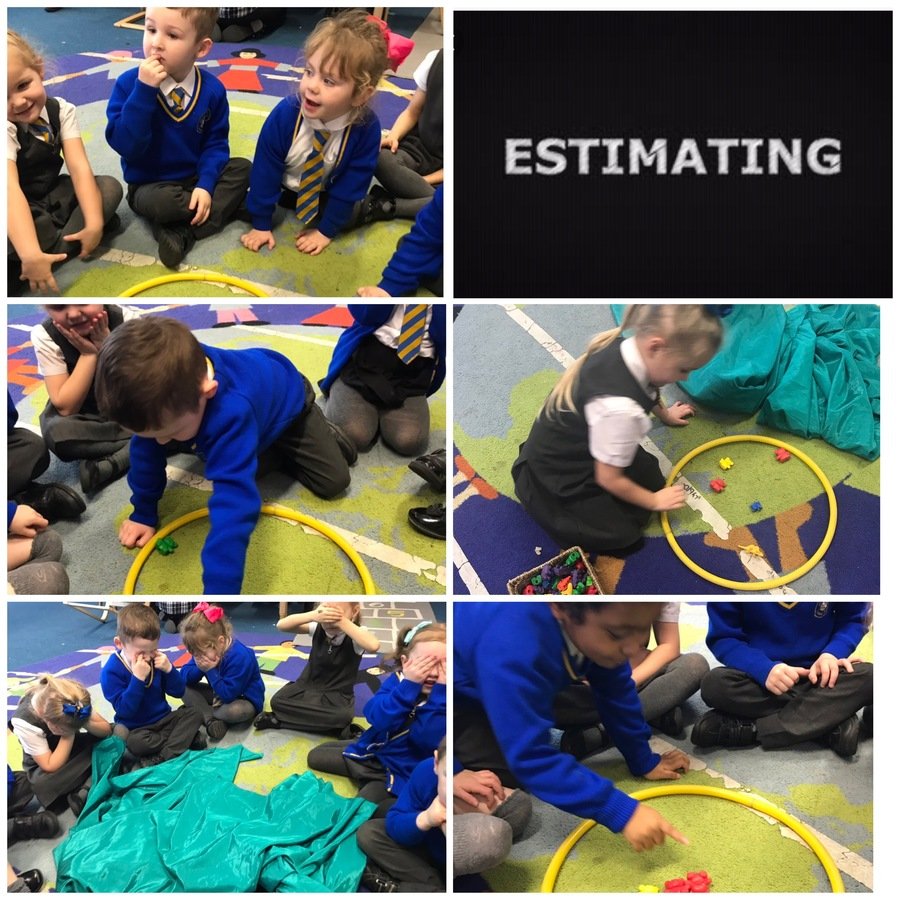 7th January - 18th January
We have been exploring the number 11 this week. We have looked at odd and even numbers and have been introduced to ten's and units. We even had a go at fun games to work out 1 more and 1 less to the number 11.
Father Christmas left some parcels behind too and we had to figure out which parcel weighed 11g. We have continued to pay for our snack and this week we had to make 11p.
21st January - 1st February
We have been studying 2D and 3D shapes. We have been on shape hunts, opened our own shape shop where we looked at the shapes of everyday objects and we have engaged in many more fun activities. Take a look at some of the pictures below...
3rd February - 15th February
We explored the numbers 12 & 13. We looked at ways of sharing 12 objects and how we can represent 12 in different ways. We also looked at timing 13 seconds and compared it to 13 minutes. We also played a game of 'how many people on the bus' and used skills to work out subtractions.
25th February - 8th March
We have been exploring the number 14 and have also be learning how to take away on a number line or by using objects.
11.3.19-22.3.19
Exploring number 15. We looked at our new number and decided where it went on our number line. We then had a go at working out number sentences which had a missing number. We also explored how we could share 15 fairly.
Easter Fun
This week we have been taking part in lots of Easter maths fun. On day one, the Easter Bunny came to school but did not leave us chocolate eggs...he left us maths calculations which we had to work out. Mrs B then let the Easter Bunny know we had completed these and he paid us another visit the next day, this time with delicious chocolate eggs. We found all the egg and work together to create a chart which helped us identify how many of each coloured egg we had.
Time
We have been learning all about time. The children have been learning how to read and make 'o' clock, half past and quarter past times on their own clocks. We even had our own workshop where each child had the opportunity to make their own movable clock. The children have also enjoyed taking part in the game 'What's the time Mr Wolf?' and they have enjoyed being challenged with problems involving time.