ENGLISH
Intent

At Holy Spirit we believe that a quality English curriculum should develop children's love of reading, writing and discussion. We have a rigorous and well organised English curriculum that provides many purposeful opportunities for reading, writing and discussion. Our curriculum closely follows the aims of the National Curriculum for English 2014 to enable all children to:
● read easily, fluently and with good understanding
● develop the habit of reading widely and often, for both pleasure and information
● acquire a wide vocabulary, an understanding of grammar and knowledge of linguistic conventions for reading, writing and spoken language
● appreciate our rich and varied literary heritage
● write clearly, accurately and coherently, adapting their language and style in and for a range of contexts, purposes and audiences
● use discussion in order to learn; they should be able to elaborate and explain clearly their understanding and ideas
● are competent in the arts of speaking and listening, making formal presentations, demonstrating to others and participating in debate.
These aims are embedded across our English lessons and the wider curriculum. We will provide the means for children to develop a secure knowledge-base in English, which follows a clear pathway of progression as they advance through the primary curriculum. Rigorous assessment and review will ensure that we are able to provide targeted support so that all children experience success in literacy; we believe that a secure basis in literacy skills is crucial to a high quality education and will give our children the tools they need to participate fully as a member of society.
Implementation
Early reading is supported through the Essential Letters and Sounds programme through the rigorous teaching of phonics sessions and regular reading activities linked with books that are phonically decodable. Regular CPD ensures that staff are equipped to teach with the expertise and skills required to promote excellent progress, as well as a love of reading. In KS2, they develop deeper reading skills in line with the Reading Scheme, guided reading sessions, Lexia and Reading Plus. Each class's timetable is organised to enable weekly access to the school library, with an up to date selection of books to provide quality reading materials for all children to promote reading for enjoyment. In each classroom there is a reading area that is welcoming and encourages the children to access books and develop the love of reading. We welcome authors into the school and also lots of performances linked to books and stories. We ensure that we celebrate World Book Day every year and offer lots of opportunities to introduce new books and stories to the children.
When planning English lessons, teachers follow a set process throughout the school. This follows the process of a 'hook' into the book, 'gather', 'plan', 'draft', 'edit and revise' and a final 'Publish' which is their polished piece. Teaching blocks focus on fiction, non-fiction or poetry, in line with the 2014 National Curriculum and comprehension, grammar and writing are embedded in lessons. Lessons sequence themselves to build progressively towards an extended piece of writing. Handwriting is also taught within English lessons, and outcomes are recorded in literacy books to promote a high level of pride and presentation across all written outcomes.
To enrich the English Curriculum, the school enjoy visits and workshops to the local library, projects involving the library visiting the school.
We also engage in a number of workshops with other agencies to help develop our writing skills. Children also take part in poetry performances and creative writing competitions, which are celebrated in whole school assemblies. Every week we celebrate a writer of the week and a reader of the week.
Assessment for Learning is embedded in English lessons and children are active in reviewing the successes in their work and identifying, with support from their teacher, target areas for development to ensure a continuous and individualised approach to improving their work.
Impact
The organisation of the English curriculum, has realised a community of enthusiastic readers and writers who enjoy showcasing their developing literacy knowledge and skills. Children are confident to take risks in their reading and writing, and love to discuss and share their ideas. Outcomes of work in both English and topic books evidence the high quality of work and the impact of varied and cross curricular writing opportunities. These enable children to write across a range of forms and adapt their writing successfully, considering the purpose.
Roadmap for English from Nursery to Year 6
English Curriculum map from Nursery to Year 6
Progression of skills in Spoken word from Nursery to Year 6
Progression of skills in Reading from Nursery to Year 6
Progression of skills in Writing from Nursery to Year 6
Phonics

Essential Letters and Sounds (ELS) is our chosen phonics programme. It teaches children to read by identify the phonemes (smallest unit of sound) and graphemes (written version of the sound) within words and using these to read words. Children experience the joy of books and language whilst rapidly acquiring the skills they need to become fluent independent readers and writers.
How do we teach phonics?
• We use a simple, consistent approach to teaching phonics. Children will experience the same classroom routines within each lesson which reduces cognitive load and maximises the chances of success.
• All children are supported within the lesson to use their new phonic knowledge independently.
• In every single ELS lesson, your child will make the direct application to reading.
• Daily Phonics sessions- these start from the beginning of Reception
• Phonics throughout the day to review new sounds & graphemes taught
• Lots of opportunities for oral blending- c/oa/t
• Main focus is on word recognition. However, new vocabulary is also given and explained in every lesson.
• Opportunities for writing- new grapheme, words and sentences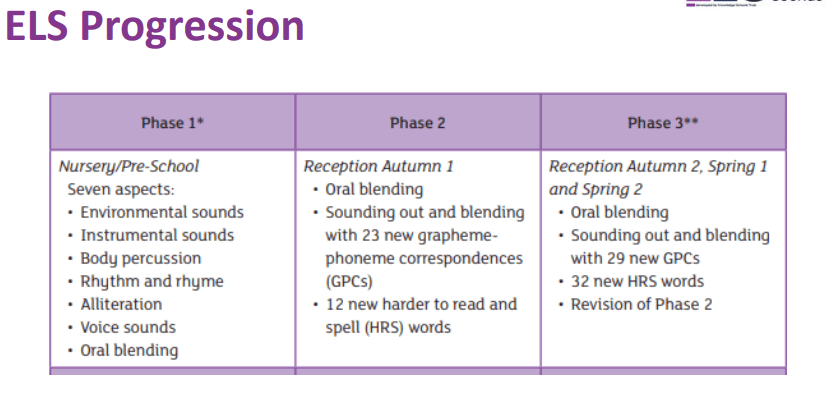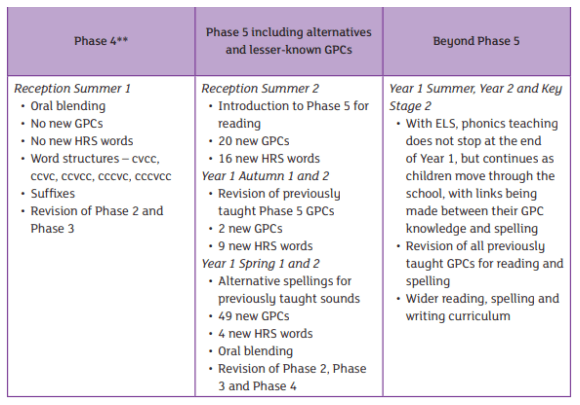 Reading Overview

The links below show an overview for reading with regards to the End of Year Expectations.
Reading
We have some amazing reading areas in our classrooms! We are really trying hard to promote reading in our school and we are reading lots and lots! Have a look at our reading areas below.
Reading for pleasure... Reading for pleasure...
Our library has had a big revamp and now has an amazing circus theme. Step into the big top and get your nose stuck into a book!
Home Reading
It is really important that we read every night! We have just purchased some additional home reading books so that we can boost reading in our school and engage our amazing reading talents!
In EYFS and Key Stage 1 we use Oxford Owl which supports the teaching of Essential Letters and Sounds. Oxford books are continued on into Key Stage 2.
World Book Day 2023
Don't forget to dress up for World Book Day this year on Friday 3rd March 2023!
Don't forget to enter the competition too where you can design a wooden spoon character or a paper plate character. We can't wait to see all the entries.
Writing at Holy Spirit
We use different stimuli to create beautiful writing from Reception to Year 6. Our Writing display shows progression through the school. Our most recent writing focus was the beautiful book by the Fan Brothers, 'Ocean Meets Sky'.
Our writing process helps our children become proficient writers who can self-evaluate and edit their work. We promote creative writing in conjunction with other writing genres. The process of creating confident writers is described below.
We are very proud of our writing at Holy Spirit. We use an author's approach to writing in our school from Early Years through to Year 6.
Gather It!
Firstly, we gather lots of information and details about our writing focus. We aim to immerse the children in the writing topic to fuel their enthusiasm and really inspire them into creative thinking!
Plan It!
Next, we are teaching our children to plan their writing in a methodical way, ensuring they know what is expected of them at all times. This planning helps them to think carefully about what they want to write and how they want to write it!
Write It!
Now is the time to write our first draft. We are teaching our children the importance of drafting their writing just like real authors do. This first draft shows what the children have gathered and planned. We encourage our children that its acceptable to make mistakes and use these to make their writing even better.
Edit It!
This is the part of our writing process where we are teaching the children to read through their writing, find any mistakes, edit and change their writing and make improvements to their first drafts.
Perfect Piece!
Our children are now ready to write their perfect piece. We are very proud of the writing that our children can produce.
How we assess our children in Writing
From Early Years to Year 6 we assess our children's writing using the frameworks set out by the Department For Education.
Key Stage 1 Grammar Glossary
| Name | |
| --- | --- |
| KS1 Glossary Of Grammatical Terms.pdf | Download |
Showing 1-1 of 1
Key Stage 2 Grammar Glossary
Grammar and Spelling
Spelling and Grammar skills are a huge focus for our children's writing. We have introduced a progressive system of spellings which are to be practices at home for a weekly spelling test. These spelling focuses will be teaching spelling rules. Grammar is also a huge focus for our children's writing skills and as such we have introduced grammar homework and weekly Spag.com sessions to help our children with their understanding of grammar and how to use it effectively in their writing.
Handwriting
We encourage all of our children to use cursive handwriting in all subjects. We award our children with a pen and a pen licence when they have shown us that they can write neatly, fluently and in a cursive style. We teach handwriting skills using a continuous cursive scheme from Early Years through to Year 6. The national expectation for cursive handwriting is high and as such we aim for our children to achieve a pen licence before they reach Year 6. You can help by encouraging your child to practice their handwriting skils at home. Below is an animation to show how we form our letters on the line.