We asked our parents why they chose a Catholic school for their child/ren...
We are Muslims and we share the same principles and beliefs.
Because it is good staff and good management.
To learn about the world we live in and to learn how faith can make you a better person.
To follow our religious beliefs.
Other Religions
Why teach about other Faiths or Religions?
'In Meeting God in Friend and Stranger' an article produced by the Bishops of England and Wales it outlines that;
'Within our schools we are seeking to educate all pupils of whatever religion to be able to live a way of life that integrates their beliefs with all other aspects of what it means to be human. As part of this, they must learn to live alongside others who are different and hold alternative views, including religious views.'

In school we refer to Judaism as another faith because of our shared Christian and Jewish heritage. Jesus was a Jew. We refer to Islam, Hinduism and Sikhism as other religions. These are studied because they have a belief in one God. Judaism is studied for one week every year whilst the other religions are taught for one week annually in rotation.

We want our children to have a rich and varied experience so visitors and visits to other places of worship are welcomed and encouraged. Each unit is taught discretely and not in any way comparatively with Christianity.
Overview of our learning in Sikhism
Age Group

Theme

Topic

Look

Discover

Respect

Early years

N/R

Special days/

ritual objects

Recognising Sikhs

Special clothes and sharing

Sikhs' dress Prasad, Diwali

Sikhs share with everyone

Year 1

FS 1

Stories

Guru Nanak

Enjoy stories

Guru Nanak

Guru Nanak was a wise teacher

Year 2

FS 2

Prayer/home

Sikh daily life

Our families

Sikh daily life

Family life and prayer is important for Sikhs

Year 3

Places for worship

Gurdwara, langar

Amritsar

Welcoming people

The gurdwara

Special places of worship for Sikhs

Year 4

Holy Books

Guru Granth Sahib

Important books

Guru Granth Sahib and the Gurus

The gurus guide and teach the Sikhs

Year 5

Beliefs and festivals

Baisakhi, the Khalsa, Mool Mantra

Belonging to a group

The Khalsa. One God

The Khalsa show the

Sikh's commitment

Year 6

Belonging and values

Guidelines for living, sewa

Service to others

Commitment to service, sewa

Sikhs' concern for others
Hinduism
Hinduism is taught for one week during the year. Below is an outline of the areas which the children will cover as part of their Come and See work.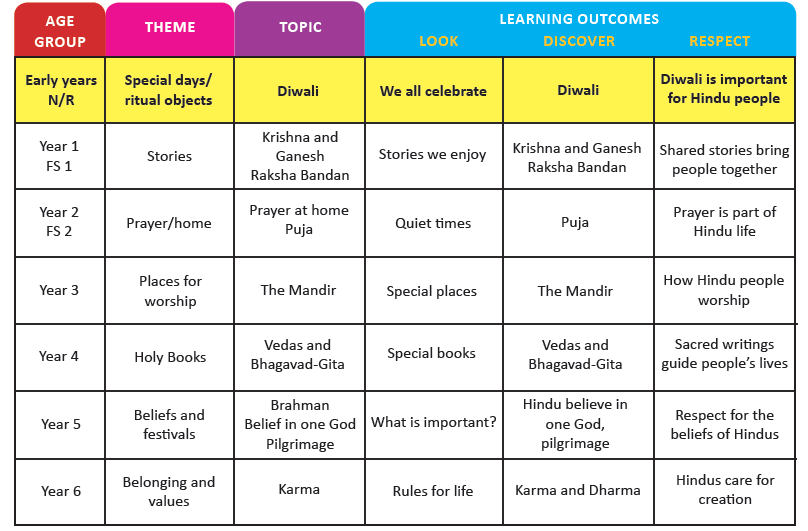 We have had lots of visitors into school to help the children to understand about Indian culture and Hindu customs.