History
At Holy Spirit, for History, we have created our own bespoke curriculum which follows chronology as closely as possible whilst maintaining the National Curriculum objectives. Each topic focuses on the following areas to ensure coverage meets the requirements on the intent, implementation and impact for each area of learning.
INTENT
The History curriculum gives the learning a purpose and as such aims to teach children why it is relevant and how it has shaped our lives in today's world. The curriculum gives us the basis on which to build learning combined with the freedom to explore other areas of historical interest. We aim to combine national and international historical understanding with local history, for example inviting the local historian and newspaper reporter Chris Coffey into school to talk to the children about our old school. Many of our children are not exposed to a rich and varied experience of History and as such we aim to give this to them through interesting and relevant topics which also meet the NC requirements across the school. The curriculum gives us the tools in which to build the children's historical knowledge whilst focusing on a specific topic. This scheme of work is by no means exhaustive and all teachers add to it with creative, innovative and relevant resourcing in order to create that awe and wonder our children engage with.
IMPLEMENTATION
The curriculum is sequenced in such a way that builds on prior knowledge, uses skills checks before each subject as the foundation of the learning. This ensures there is smooth progression throughout the topics. Furthermore, an assessment tool takes these skills and builds on them to promote progression through the year groups. Each topic is broken down into lessons with specific lesson objectives. These objectives build on developing key skills. For example, following on from the topic of the Romans in Year 4, children then build on these skills in Year 5 during the topic of Invaders and the fall of the Roman Empire. Children build on historical enquiry skills year on year, as in Year 3 children learn how to find out what life was like in the stone age by, 'Using different sources of information'. Building on this in year 4 where pupils are required to 'Use secondary evidence to identify key historical facts. We have life size costumes in the school hall on mannequins in a chronological timeline. The progression of skills is clearly set out in the planning documents assessment matrices which enables all teachers to identify learning gaps.
We have high expectations for presentation of historical learning in books and expect our children to take pride in recording evidence such as timelines, written pieces of work and research. Our playground has a timeline marking for children to use at the start of a topic which then leads into the topic's scheme of work. This allows us to ensure the curriculum is flexible yet covering all areas of learning. We use a theatre company which specialises in historical drama to enhance learning. The classrooms are decorated in the theme of the topics which further lends itself to the immersive experience.
IMPACT
Throughout their learning journey, our children build on skills to be able to be confident in asking relevant questions, in an historical context. They understand chronology of events in the past from International, British and Local History and can understand how to use research skills and secondary sources to identify key historical facts. We aim for them to maintain an interest in history and historical facts as they move into secondary education, to confidently talk about events from the past and to remember an event or series of events which sparked their curiosity.
History Curriculum map from Nursery to Year 6
Progression of skills in History from Nursery to Year 6
For a brief overview of the topics we are learning about visit see our Long Term Plan
Holy Spirit History Curriculum
Programmes of Study link directly to the National Curriculum. The document below contains the Programmes of Study for the National Curriculum for Key Stage 1 and 2.
History programme of study for KS1 and KS2
Our learning is interactive and informative as well as FUN!
Year 1 are having a great time this term learning all about 'Old School Days'. This unit will teach children about the history of schools in the UK. How children learned and what activities they did. Throughout the unit, the children will develop a range of learning skills such as: asking and answering questions, identifying and interpreting different sources and recognising change and exploring how this influences them today.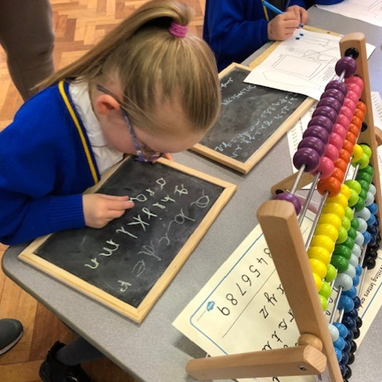 Using real life experiences to bring history to the classroom!
In Year 3 the children had to create an Egyptian 'dig' to find the Mummy!